A RealtyTours.com virtual tour is the closest thing to a real showing. It's a powerful way to promote your listings to thousands of people nation-wide, and it's a great tool that will help you "Take more listings and make more sales!"

Virtual tours will impress sellers and save buyers valuable time by helping them find the right property for their needs. Don't lose out. Make sure you have a Virtual Tour on every one of your listings!

Some of the features and benefits of RealtyTours.com virtual tours include: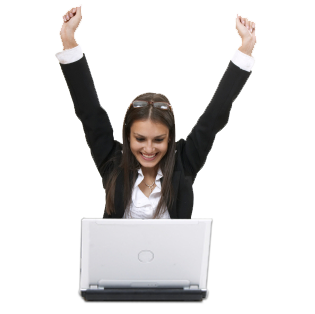 SIMPLE AND EASY
Creating virtual tours has never been easier! Using any digital camera and/or camcorder, you simply take the pictures and video, upload them through the RealtyTours.com website, enter some brief property information, select your background music and options, and we do the rest - making your images come alive and together into a professional looking virtual tour that can be viewed on the web using a computer, from any mobile device or smart phone (ie iPhone, iPad, tablet, Android, IOS, etc.), or downloaded to a CD for TV viewing. Add your virtual tour URL to your: MLS, IDX website(s), name rider or yard signs, property flyers, brochures, social networking sites, Realtor.com, YouTube, etc. and the whole world will be taking a virtual tour while you do what you do best - turning qualified interested buyers into home-owners and sellers into happy satisfied customers!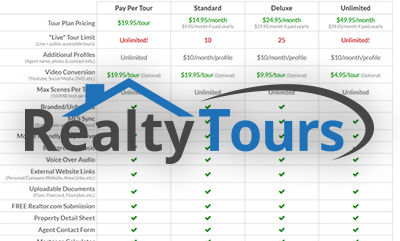 TOUR TYPES
Our Pay Per Tour plans allow you to purchase tours as you need them, and our monthly subscription plans allow you to create unlimited tours for a small monthly fee. Regardless of the plan you are on, you get the same full version high quality tours and services with all of the features and links. How the tour is displayed depends on the link (URL) that you use. Each tour you create has links for: a full Branded Tour, and un Unbranded Tour (which does not have any contact info.). For a small fee you can convert the tour into a video to burn to a CD or DVD, upload to Youtube, or post on social media sites, etc. Every tour is fully responsive and can be viewed on any device.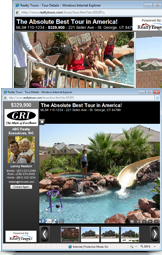 TOUR FEATURES
Each RealtyTours.com branded tour includes the following features and options:
Branded Info: Your contact info. (Including your personal photo and company logo)
Tour Scenes: Unlimited still images, panoramic images, and/or videos.
Property Info: (Address, Price, Beds, Baths, Sq. Ft., Acres, Remarks, etc.)
Headings: Text headings and descriptions for each scene.
Background Music: Choose from a variety of selections & themes. On/Off options.
Voice/Audio: Plays sound file at beginning of the tour for narration & personalization.
Send To A Friend: A link that allows users to email the tour to another person.
View on Map: A link to the property with several views (street, arial, satellite, etc.).
Contact Agent: So users can email you with questions or to schedule a showing.
View on Map: A link to the property with several views (street, aerial, satellite, etc.)
Calculator: Allows users to calculate their monthly payment for this property.
Re-sizable: Tour auto re-sizes to fit the browser, and has option to fill the full screen.
Video Conversion: A option that allows users to download the tour as a video file.
Custom Links: Add links to your tours with customized button names and URL's (Visit My Website, View Floorplans, etc.).
Interactive: Users can start, stop, play, and navigate as if they were walking through the home.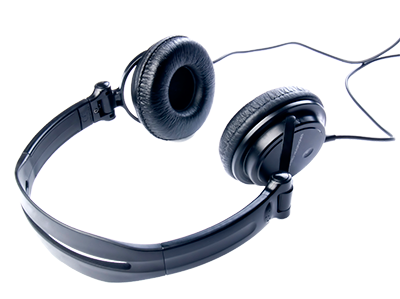 AUDIO/SOUND
Add up to a 60 second voice or audio (wav) file to play at the beginning of your tour. This can be used for narration, introduction, and for special music or effects. When buyers here the sound of your voice, they immediately start to make a connection - which can easily become a lead that leads to the sale!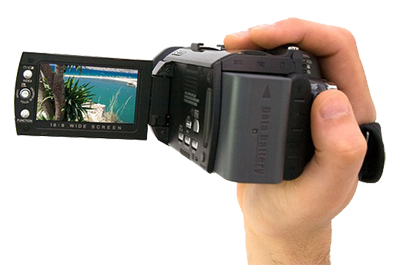 HD VIDEO
Supports most popular video formats including HD (mp4, avi, mpg, mov, etc.) more). By adding even just a few hi-def videos to your tour, you turn it into more than just a tour. It becomes an "experience" for the user. The power of an introduction by you on the first scene and a thank you at the end adds personality to your tour and will make the end user feel like they already know you, making it easier for them to contact you and to ask you to represent them as the buyer's agent. Video is especially effective for any scenes with sounds or moving objects such as a golf swing, water fall, theater room, mood lighting, etc.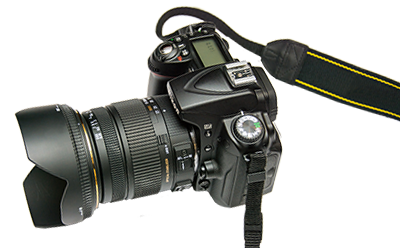 STILL IMAGES
Supports high resolution JPG photos. Images are automatically re-sized. Still images have transition and special effects that give them a video like appearance. You can customize how long each scene plays.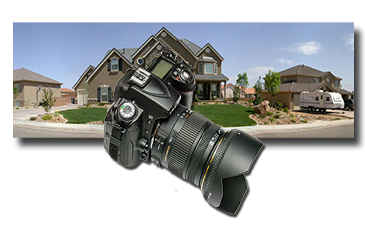 PANORAMIC IMAGES
RealtyTours.com supports panoramic JPG images. You can create panoramas by taking a series of pictures with any digital camera (no special lens required) and then stitch the images into one panoramic JPG image using a
stitching software
(not included). Most phones also have a setting to create panoramic images.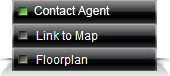 CUSTOM LINKS
Add custom buttons to your tours that link from the tour to your personal website, to a page within your website with additional tours, or to any other website related to the property. Custom links can also be used to link to: plat maps, floor-plans, community attractions, school info., city or county websites, chamber of commerce, etc.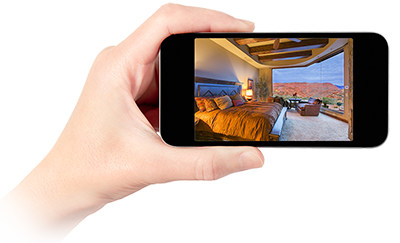 MOBILE TOURS
Every tour is fully responsive and automatically adjusts to the screen resolution. Users with smartphones and mobile devices such as the iPhone, Android, iPad, will be able to view the tours.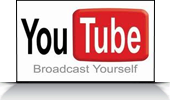 CONVERT TOUR TO VIDEO
For a small one time fee per tour you can automatically convert any tour into a video, which you can burn to a CD-ROM or DVD, upload to Youtube, post on social media sites, etc.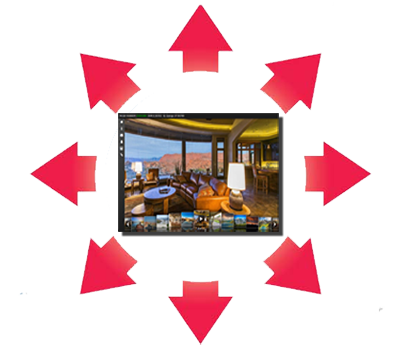 LISTING SYNDICATION
We provide a branded and unbranded URL which you can submit to your local MLS and to any syndication sites the MLS submits your listings to. Your tour can be displayed from the MLS on all office and agent IDX websites (subject o your local MLS export and display rules). We provide FREE submission to Realtor.com as well. If your MLS does not submit your listing to at least 80 major real estate websites, please contact us about setting up syndication for you as a separate service. You can also submit your tour to social media sites, Youtube, and display it on your own personal and company website(s).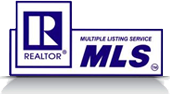 MLS Sync
Once a RETS feed from your MLS has been setup on our back end, you can automatically create new tours on each new listing directly from your MLS. Our system also updates your tour with all important data from the MLS including price changes and status changes. You can add all of the photos from the MLS to your tour either automatically or manually with a click of a button, then you can customize your tour with videos, music, etc. that may not be on the MLS.
AWARD WINNING CUSTOMER SUPPORT!
RealtyTours.com is so easy to use, that you may never need help and support; however, if you ever have a question or need help, it's nice to know you can just pick up the phone or submit an e-Support ticket and receive fast, friendly, proficient help from a real person. RealtyPro Solutions is dedicated to providing you with the highest level of customer service and support. If you ever have any questions, suggestions, or notice any problems with our software or services, please let us know and we will do our best to reply and resolve any issues as quickly and efficiently as possible!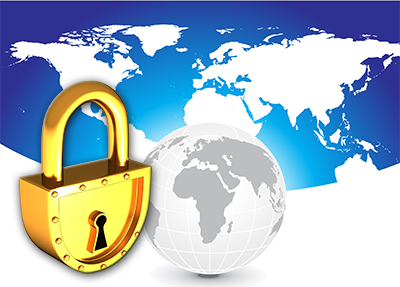 RELIABILITY AND SECURITY
Our dedicated secure servers are connected to the Internet 24/7 and employ a RAID 1 dual hard drive mirror system with redundancy and daily backups to prevent against hard drive failure, downtime, or loss of data. All financial transactions made on our site are SSL encrypted to provide you with the highest level of security and peace mind.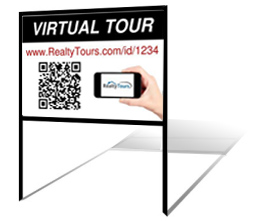 TOUR SIGNS
It couldn't be easier or more affordable to create and order yard signs or name riders for your tours! Each sign has a unique QR code and URL that can be associated with any tour so the sign can be re-used on multiple properties. Our software creates the sign design, lets you customize the sign (with agent photo, colors, etc.) - and walks you step-by-step through the ordering process.